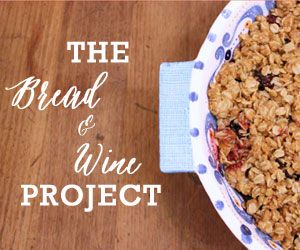 I have been so excited about this linkup since my blog friend, Rachel, emailed me about it last month! I'm halfway through the book, Bread and Wine, and I have to tell you...reading it will completely change the way you look at serving food and opening your home.
Whether you're serving just your family, or inviting people in to enjoy what you make, food is a bonding agent, deepening all of your relationships. The special moments around the table cannot be beat. Sweet conversations, a shared moment of pure bliss over a dish...these are the things I cherish.
One of my very favorite meals to bond over is breakfast. I'm sure you've noticed from my two Sunday Brunch recipes here and here. There is something about starting the day with someone you love that is just special. Waking together, eating the first meal together, starting your day with a connection. That's the best part of the morning meal.
My mom makes the most delicious coffee cake for breakfast on special occasions and holidays. We eat it every Christmas morning. Whenever I take a bite of this cake I feel at home in a beautiful way. Scents take many back to their favorite memories and moments. Flavors do that for me. So today, I'm sharing the breakfast cake that tastes like going home to me. I hope you share it with someone you love on a morning, whether for a celebration, or for the love of eating.
For the cake:
2 cups Bisquick or other pancake mix (we use Aunt Jemima because it's Drew's favorite)
2/3 cup milk
1 egg
2 tbsp sugar
For the topping:
1/3 cup Bisquick
1/3 cup brown sugar
1/2 tsp cinnamon
2 tbsp butter
Preheat oven to 375 and grease a 9x9 baking dish.
Mix together all cake ingredients at once at medium speed in a mixer or by hand with a whisk. Batter will be thick, not liquidy. Scoop into the baking dish and smooth it out (I didn't take a picture of this step, blogger fail.)
Combine the topping in your mixer as well until it resembles coarse sand. Pour evenly over the top of the cake batter.
Bake for 15-20 minutes or until the cake isn't gooey inside. I had to go 24 minutes on mine for some reason, maybe because I'm not using the same baking mix mom always does.
Serve with butter on top, if you wish, a good cup of French roast coffee, and maybe some fresh fruit on the side. Best enjoyed on a slow morning with the ones you love most. But, it's also great if you just feel like having something yummy in the morning. Reheat in the microwave for 15 seconds and enjoy it all week long.
Have you read Bread and Wine yet? What do you love most about it? What's a meal your family has always made that feels like home to you?